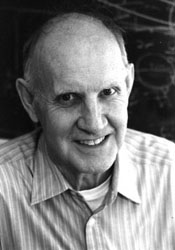 M.E.L. Oakes
Melvin E.L. Oakes was born in Vicksburg, MS, in 1936. He attended Hinds Junior College on an athletic scholarship. He earned a B.S. in Physics from Louisiana State University in 1958. That same year he entered Florida State University's graduate physics program as a Nuclear Science Fellow. He completed a Ph.D. in theoretical plasma physics in 1964 and joined the plasma physics program at The University of Texas at Austin as a postdoc. In 1965, he was appointed Assistant Professor. His research interest was radio-frequency heating of plasmas, an area in which he directed the dissertations of many students. He was promoted to Associate Professor in 1968 and to Full Professor in 1975. He was a charter member (1995) of the UT Academy of Distinguished Teachers.
Throughout his career Professor Oakes was active in the undergraduate physics program and promoted physics undergraduate scholarships. His teaching awards include the first College of Natural Sciences Teaching Award, the Jean Holloway Teaching Award, the William Blunk Professorship, the Eyes of Texas Award, and the Chancellor's Council Teaching Excellence Award. He was selected a State of Texas Piper Professor in 2003. He retired in 2004. He continued to assist with freshman physics seminars, advising, teaching laboratories, and scholarships for several years before fully retiring. Since retiring, he has created a web site dedicated to the history of the University of Texas Physics Department. See: http://www.ph.utexas.edu/utphysicshistory/
Professor Oakes and his wife Patricia have three daughters: Elizabeth, a violist and Coordinator of the University of Iowa String Quartet Residency Program; Sarah, a high school chemistry teacher in Arlington, VA; and Mardie, an architect and Executive Director of Hello Housing, a nonprofit specializing in programs for low income housing in San Francisco. They also have three grandchildren.
---
The M. E. L. Oakes Undergraduate Lecture Series is supported by an endowment established by colleagues and friends of Professor Oakes, and alumni of the Department of Physics.
In the fall of 2003, when Professor Oakes announced his retirement, several of his colleagues felt that there should be some special recognition of his years of dedicated service to the department and, in particular, of his special role in the development and maintenance of our undergraduate majors program.
When he was asked what an appropriate recognition would be, Professor Oakes responded it should be something that would enrich the educational experience of all of our undergraduates. He suggested a lecture series dedicated to the undergraduates -- an idea that had not occurred to anyone. This response was typical in both the originality and the intent to support the undergraduates. This would be one or two special colloquia delivered by physicists with a recognized talent for bringing the latest results of research to the public and particularly the undergraduate students. As examples of potential speakers, Professor Oakes cited persons who had been recent recipients of the Oersted Medal of the American Physical Society.
With the announcement of the purpose of the endowment and the fact that it would honor Professor Oakes, the fundraising for the endowment went especially well. With a generous match offered by the Kodosky Foundation, colleagues, friends, and alumni donated sufficient funds to support two special lectures per year, one in the fall and one in spring.
These lectures will become an integral part of the colloquium series of the department. The student club for physics majors, SPS, will play a special role in the selection of the speakers, advertising the talk, and other special activities associated with the visiting lecturer.
The department is especially pleased that it will now have an ongoing activity that expands the educational experience of our undergraduate majors -- one more significant contribution by Professor Mel Oakes.
---
The Department of Physics
The University of Texas at Austin