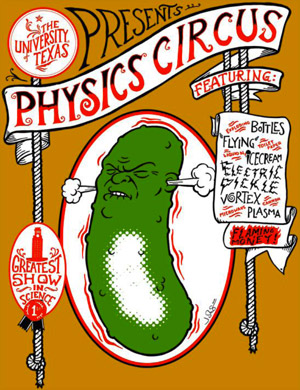 The Physics Circus
The Physics Circus is a traveling science show encompassing what we believe to be some of the most important results from classical physics. We aim to show kids some of the cool things you can do with your knowledge of science, which you can't normally see in a classroom.
In roughly an hour of thrilling demonstrations, we cover heat, motion, states of matter, properties of air, and electricity. This is a fun event for students of all ages as well as for parents and teachers. Click here to sign up for a Physics Circus at your school!

Fall 2022 COVID-19 Update
We're back to our live shows! Send us a schedule request if you want us to come visit! As we catch up on our request list, we may have limited availability as we train new presenters. If we can't get to your school right away, we'll do our best to fit you in soon!
Follow us on Twitter! @Physics_Circus
Promo Video