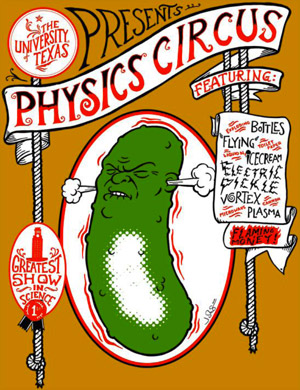 The Physics Circus
The Physics Circus is a traveling science show encompassing what we believe to be some of the most important results from classical physics. We aim to show kids some of the cool things you can do with your knowledge of science, which you can't normally see in a classroom.
In roughly an hour of thrilling demonstrations, we cover heat, motion, states of matter, properties of air, and electricity. This is a fun event for students of all ages as well as for parents and teachers. Click here to sign up for a Physics Circus at your school!

**Fall 2021 COVID-19 Update**
Covid-19 continues to impact our lives. For the start of the Fall semester, we will only be offering virtual livestreams. We will perform our tried-and-true demos over the internet especially for you and your class, and field questions live! In mid-October, we will re-evaluate the situation and make a determination for the rest of the semester. Hopefully we can be back to live shows soon!
Below, you'll find an embedded YouTube livestream of our show, or a playback of our most recent live show. Sometimes this doesn't work, so if it gives an error, you can watch the stream live on YouTube by clicking on this link!
Follow us on Twitter! @Physics_Circus
Post Stream Survey
Promo Video